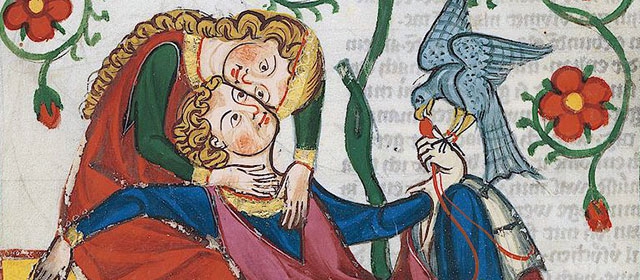 Canso

Troubadour songs of Raimbaut DE VAQUEYRAS, Bernard DE VENTADORN, Guy D'USSEL, Bertrand D'ALAMANON, NA CASTELHOSA…
Arrangements and compositions by Philippe Malfeyt
At the end of the 11th century, a cultural impulse appeared in the south of France which would upset the relationships between men and women, and institute a new concept of love which still permeates our society today. The fin'amor - or courtly love - is a sublimation of the feeling of love, the expression of an inaccessible desire. Through the canso - song with stanzas - the troubadours sing their loving complaints, their idealization of the beloved dòmna (lady). This refined art born in the Occitan courts will impose itself throughout France, then in England, in Germany ...
The art of trobar (finding, composing a poem, a melody) seems to have been the most refined expression of courtesy. There are 95 manuscripts of this tradition, mainly between the middle of the 13th century and the middle of the 14th century. Of the approximately 2,500 texts contained in these manuscripts, only about one tenth is accompanied by musical notation. However, it is certain that all this poetry was sung. The music that has reached us is monodic without any indication of accompaniment and the rhythmic notation is subject to controversy. Interpreting this repertoire therefore raises many questions and involves choices.
This is where the creative space of today's musician begins. For many years, La Roza Enflorese has approached traditional Sephardic monodic romances in a spirit of harmonic openness, improvisation and original instrumentation favoring encounters of different eras, styles and sound universes. With Canso, the musicians of the Roza Enflorese approach the refined poetic art of the troubadours through a choice of texts of which there is sometimes music that they appropriate without complex, or for which they fill the absence of musical source by original compositions. The instrumentarium chosen - recorders, lute, oud, guitar, nyckelharpa, viola da Sienna, cello, accordion, doudouk and percussion - creates bridges between ancient music and modern music, traditional music and scholarly music in a poetic spirit at the service of the text.
Distribution:
Edith Saint Mard song
Philippe Malfeyt lute, oud & guitar
Bernard Mouton recorders & comforter
Sigrid Vandenbogaerde cello
Didier François nyckelharpa & viola da Sienna
Anne Niepold diatonic accordion
Vincent Libert percussion
---